Spitfire memorial to 71 pilots killed during World War Two training
John "Dinger" Bell unveiled the memorial in Grangemouth.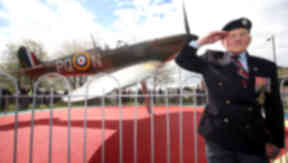 A full-size replica Spitfire has been erected as a memorial to 71 pilots killed during training in the Second World War.
Supermarine Spitfire Mark 1 was unveiled by 100-year-old former aircraft mechanic John "Dinger" Bell in a public garden in Grangemouth, close to the site of a former RAF airfield.
Young pilots from around the world were based in Grangemouth, near Falkirk, during the war and 71 of them died just during training flights at the base.
The idea for the memorial came from cadets in the 1333 (Grangemouth Spitfire) Squadron Air Training Corps. It cost £100,000 which was raised through campaigns led by the Grangemouth Spitfire Memorial Trust.
Chairman Iain Mitchell said: "The young men who trained at Grangemouth were among the bravest the world has ever seen, and it is a huge honour for us to be in a position to commemorate their sacrifice with this stunning memorial. It's the first of its kind in Scotland and we can't wait to share it with everyone.
"This project has been five years in the making for us. Ever since the memorial wall went up in 2008 we've been trying to raise the funds to have the replica put up so to see it finally happen is a proud moment for all involved.
"The effort the cadets have put into this has been astonishing. This would not have been possible without them."
The memorial aircraft is a replica of a Spitfire flown by 23-year-old Polish Sergeant Pilot Eugeniusz Lukomski who crashed and died in the Avondale estate in Polmont during a training flight in November 1941.
Mr Bell added: "RAF Grangemouth was a huge success story and future generations must never forget its huge contribution in training thousands of Spitfire pilots from many different nationalities. I remember some of the 71 pilots who died. They were all a happy bunch of very young men.
"I am delighted that the Air Cadets of 1333 (Grangemouth) Squadron are all fully behind the Spitfire memorial."
Eight plaques have also been put up on a wall in the garden to tell the story of the now-defunct RAF Grangemouth.