Airman commemorated 100 years after he was killed in flying accident
A wreath has been laid at the grave of Lieutenant Desmond Arthur who died on May 27, 1913.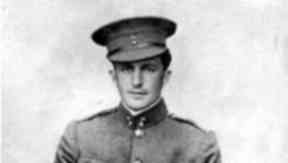 An airman has been commemorated in a ceremony to mark 100 years since he was killed in a flying accident.
Lieutenant Desmond Arthur was on a training exercise from Montrose air station on May 27, 1913 when the wing of his plane broke up.
The plane crashed to the ground near Lunan Bay and Lt Arthur died, the first airman to be killed while serving at RAF Montrose.
On Monday, a wreath was laid at Sleepyhillock Cemetery in Montrose where members of the RAF were buried.
Montrose Air Heritage Centre recently uncovered the secret of the picture of a young woman found in the pilot's breast pocket when he crashed.
She was Winsome Ropner, Lt Arthur's 14-year-old sweetheart from West Hartlepool.
The portrait and Lt Arthur's diary have been donated to the centre by his great-nephew.