Teen who broke newspaper vendor's leg jailed
Joanne Dunn was left with a broken leg after the 17-year-old pushed over her newspaper kiosk while she was inside it.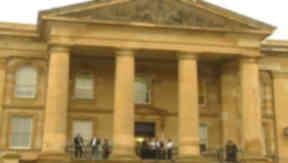 A teenager who broke a newspaper vendor's leg when he pushed over her kiosk was jailed for 19 months on Friday.
Daniel Wilkinson was on six different bail orders when he seriously injured newspaper seller Joanne Dunn, 26, in December last year.
Dundee Sheriff Court heard that the 17 years old was with a friend outside Dundee's Overgate shopping centre at around 5.15pm on Wednesday, December 15, when he approached the kiosk owned by a local evening newspaper.
He then pushed it over - causing Ms Dunn to sustain two fractures to her leg when it crashed to the ground.
Just a day before the incident, Wilkinson had been released on bail at Dundee Sheriff Court and was ordered to be of good behaviour when he appeared for sentence over two breaches of the peace.
Wilkinson, of Graham Street, Dundee, earlier pled guilty to culpable and reckless conduct and a series of other offences.
Alastair Houston, defending, said: "Apart from the reckless conduct charge, his offending has been relatively petty in nature.
"I'm concerned he will not break the cycle of offending if he gets a long jail sentence.
"He could be in and out of the court regulary in the future - perhaps on more serious matters.
"It would be my submission that community payback would have been perfect for him. He's throwing himself on the mercy of the court."
Sheriff Tom Hughes said jail was the only option for Wilkinson, sentencing him for 19 months in total for the reckless conduct incident, as well as for ten other complaints.
He said: "In this case I'm sentencing you on 11 different complaints."