Dundee shop sends pair of bongos to UKIP 'Bongo Bongo Land' MEP
Rainbow Music store owner Stefan Pogrorzelec dispatched the curious gift to Godfrey Bloom after his comments.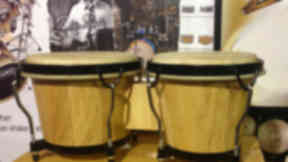 A music shop in Dundee is sending a pair of bongos to a UKIP MEP after he complained about foreign aid going to "Bongo Bongo Land".
Rainbow Music store owner Stefan Pogrorzelec dispatched the curious gift to Godfrey Bloom after the politician was recorded making controversial comments about UK development spending overseas.
On Wednesday, the Guardian released an audio recording of a speech Mr Bloom gave to UKIP supporters in July in which he criticised aid spending. He said: "How we can possibly be giving a billion pounds a month when we're in this sort of debt to bongo bongo land is completely beyond me." He added that aid money was spent on "Ray-Ban sunglasses, apartments in Paris, Ferraris". He also claimed development money was used to buy fighter jets for the Pakistani military.
Although he appeared to dismiss the row in an interview on BBC Radio Four on Wednesday morning, Mr Bloom later said he "sincerely regret[ted] any genuine offence" caused by his remarks.
However, Mr Pogrorzelec decided to give the politician a pair of Cuban bongos, worth £39, and invited him to the shop "for a wee dram and a mutual drumming of the bongos".
In a statement on Wednesday afternoon, Mr Pogrorzelec said: "We are a lover of the bongos and sell many from our humble music shop, Rainbow Music in the bonny city of Dundee. It was to our surprise and bemusement that you wanted to cut foreign aid to Bongo Bongo Land, as we were not sure as to the specific geographical location of such a place and we thought you were referring to the places where bongos are made and played. We were unaware that we were eligible for foreign aid, it has made us further confused.
"As an MEP you must be well informed of such foreign aid and would appreciate it if you could point us in the direction of any money that is coming our way. In appreciation we are giving you a pair of the finest Cuban bongo drums which you can have a good session with. The bongos are a great way for a politician to unwind after a hard day of representing the people, particularly as you sounded rather angry and stressed out on the wireless this morning."
Questioned on the Today programme about his comments, Mr Bloom quipped: "If I've offended anybody in Bongo Bongo Land I will write to their ambassador at the Court of St James." However, following interventions by UKIP leader Nigel Farage and chairman Steve Crowther, he issued a statement of regret on his website.
He wrote: "At a public speech in the West Midlands in early July I used a term which I subsequently gather under certain circumstances could be interpreted as pejorative to individuals and possibly cause offence. Although quite clearly no such personal usage was intended, I understand from UKIP Party Chairman Steve Crowther and leader Nigel Farage that I must not use the terminology in the future, nor will I and I sincerely regret any genuine offence which might have been caused or embarrassment to my colleagues.
"My aim, successful as it appears, was to demonstrate the immorality of sending £1bn per month abroad when we are desperately short of money here. Ring-fenced overseas aid at nearly 70% of estimated GDP growth next year, some to buy arms - Mirage fighters in Argentina is just one example."
UKIP is opposed to the Coalition Government's ring-fencing of international development spending. A statement on the party's website says: "UKIP would scrap the majority of foreign aid given the colossal waste involved."
But Rainbow Music owner Mr Pogrorzelec thinks learning the bongos and visiting Dundee would have a positive impact on Mr Bloom.
He continued: "Also if you find yourself in the Dundee area, we would like to invite you into the shop for a wee dram and a mutual drumming of the bongos. We think it really would do you the world of good. If you could take a photograph of yourself playing the bongos and send it to us, we would love to host it on our blog.
"We would also like to remind you that the Notting Hill Carnival is coming up and we thought it would be a great way for UKIP to connect with the people if you have a float with you playing the bongos, I am sure it would put a smile on the faces of the people of this great nation."
Rainbow Music, which opened in Dundee in 1979, is a popular retail venue for musicians, selling equipment including guitars, keyboards, and other accessories.