Dundee medical researchers in call for 'wasted' blood samples
Over 10,000 litres of blood thrown away annually could be used to boost research and development.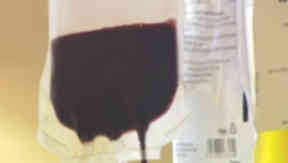 A project is being launched in Dundee to boost world-leading research into a number of diseases.
GoShare asks members of the public to consent to their blood samples being used in genetic studies into asthma, diabetes and heart disease.
Medics say the more samples they have, the better the quicker they can develop new and better treatments for the conditions.
Prof Colin Palmer of the University of Dundee said: "Over the past decade our understanding of genomics and how our gene sequences are has been really incredible.
"But we know we've got three billion letters in our code. Trying to work out what that means in a challenge.
"One of the ways to deal with this is by looking at more blood. Many of us have blood taken at the doctors, but once it's been tested 7000 samples are thrown away each day.
"That's 10,000 litres of blood a year wasted which could help us in the fight against diseases."
Researchers have now called for anyone who is having their blood tested to consent for it to be used in tests to improve medicine.
Anyone who wants to participate in the project can sign up on NHS Scotland's GoShare website.