University lecturer tipped as one of world's top innovators
University of St Andrews lecturer Per Ola Kristensson is changing how we interact with technology.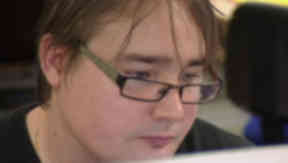 A University of St Andrews lecturer has been tipped as one of the world's top innovators.
Each year the Massachusetts Institute of Technology, a highly regarded private research university in the United States, highlights "ten technologies, 35 people, and 50 companies that are especially important" in emerging sciences.
This year's Innovator list features the university's Doctor Per Ola Kristensson who is helping to transform the way we type on new mobile devices.
"I'm interested in optimizing the flow of information from your brain into the computer," he told MIT.
One example of the Swede's work is the gesture keyboard. It allows users to quickly and accurately write text on mobile devices by sliding a single finger across a touchscreen keyboard. For example, to write the word 'the' instead of touching the individual letters, you slide your finger over them, creating a shorthand symbol.
That technology is now available in a number of products including mobile phones that run Google's Android system, where the gesture keyboard comes pre-installed.
The scientist joins a stellar list of technological talent. Previous winners include the man behind Facebook, Mark Zuckerberg, and the creators of Google.