Hillary Clinton invokes Scottish Enlightenment in human rights plea
The former US Secretary of State gave the graduation speech to mark the 600th anniversary of St Andrews University.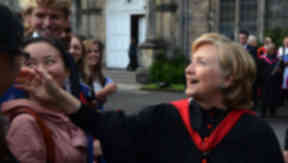 Former US Secretary of State Hillary Clinton has marked the 600th anniversary of St Andrews University with an impassioned speech in defence of human rights.
Mrs Clinton held up the example of the Scottish Enlightenment as she called for "more voices" to speak up for people's right to contribute to society at a time when democracy was "under stress".
The 65-year-old former First Lady gave the graduation address in her first public appearance since finishing her term of office in Barack Obama's administration in February.
She received a doctor of laws degree in recognition of her achievements as a politician and diplomat from the university's chancellor, veteran Liberal Democrat politician Sir Menzies Campbell.
She told an audience of education leaders, university staff and students: "We have honoured some of the great advocates here today who have spoken out courageously for women's rights, gay rights and religious understanding, showing us that our communities and institutions are strongest when equality and opportunity are open to all people and freedom of conscience is respected.
"Here in the home of the Scottish Enlightenment and the great contributions from Scottish universities, we need to be reminded that it paved the way for much of the progress we now take for granted, not only in the West but around the world.
"And it is important that as we chart our way forward in this new century, we bring with it the enlightened view that every individual around the world regardless of gender, religion, race, ethnicity or orientation, should be able to contribute to their societies and to have the chance to live up to his or her God given potential.
"We are confronting deep cultural and political differences. Change can be very wrenching and it is difficult to bridge the gaps between and within societies.
"We will never agree on everything....but spirited and principled debate is the lifeblood of democracies and today our democracies are under stress.
"It is more important than ever that we rally behind what started here and elsewhere, where the individual was endowed by his creator with those rights that enabled first men and slowly women and others to be full participants in their society.
"Now we need in this new age participation on a much grander scale to make the case for the importance of those fundamental values."
The graduation ceremony also saw honorary degrees conferred on the former Archbishop of Canterbury, Rowan Williams, classicist Professor Mary Beard, inventor of the world wide web Professor Sir Tim Berners-Lee, primatologist Dame Jane Goodall, anthropologist Professor Dame Marilyn Strathern and philosopher Professor Nancy Cartwright.
Particle physicist Professor Sir Peter Higgs was also awarded an honorary degree, but was unable to accept it in person because of illness. The chancellor wished him a "speedy recovery" and said the degree would be conferred at a later date.
The Duke of Cambridge, who met his wife Catherine while they were studying at St Andrews, congratulated the university on its 600th anniversary.
In a letter read out by Sir Menzies at the beginning of the ceremony, he wrote: "As a proud new father, I have come to think more than ever about the world our children will inherit; and the role of education, research and intellectual courage in our society has never seemed so important.
"For Catherine and me, the University of St Andrews is an emblem of these virtues.
"As proud patron of the Anniversary Appeal, I am delighted to offer my congratulations to all the university's honorary graduates today and my warmest congratulations to an institution that may be 600-years-old but which has never been as vital. Happy birthday, St Andrews."
Sir Menzies also read out a letter from Cardinal Tarcisio Bertone which passed on the congratulations of Pope Francis. The university was founded in 1413 by a Papal Bull.
"His Holiness Pope Francis was pleased to be informed of the celebrations marking the 600th anniversary of foundation of the University of St Andrews and he sends cordial greetings to all taking part," the cardinal wrote.
"His Holiness is confident that the noble work of education and research in a wide range of academic fields will continue to flourish in the city that bears the same name of Scotland's patron saint."