American fiddler crowned champion at Scottish music competition
Returning champion Maggie Adamson from Shetland finished second in Glenfiddich Fiddle Championship.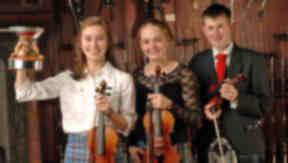 An American fiddler has been crowned champion of a traditional Scottish music competition.
Maura Shawn Scanlin from North Carolina was named Glenfiddich Fiddle Champion on Sunday, beating returning champion Maggie Adamson from Shetland into second place.
Graham MacKenzie came third in the 24th year of the annual competition.
Maura said: "The Glenfiddich Championship is a competition brimming with amazing talent and it is an honour to be invited to Scotland to compete. Winning this year, takes the experience to a whole new level."  Maggie Gordon, descendant of William Grant — the founder of William Grant & Sons, who presented the award said: "We have eight Fiddlers competing this year for the championship title and listening to them today, I don't envy the judges as it must be so incredibly difficult to choose a winner when they are all so talented. 
"I'd like to congratulate not only this year's winner, but each and every one of the competitors who were shortlisted.  It's their incredible talent that makes this event so wonderful to witness every year".
The competition was held at Blair Castle in Perthshire.