Naked postman exposed package to motorists while mowing his lawn
Andrew Thomson was found guilty exposing his genitals while he was standing in his front garden.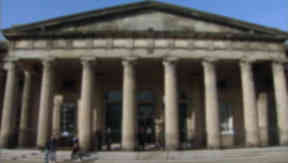 A postman shocked passing motorists after stripping naked to mow his lawn.
Andrew Thomson, from Pitlochry, delivered an unwanted sight to passing motorists and pedestrians by putting his own naked package on display.
He exposed his genitals to several people while he was standing in his front garden with no trousers or underpants on.
Thomson of Woodend, Fincastle, was found guilty of standing outside his home, on the B8019, whilst naked from the waist down and exposing his private parts at Perth Sheriff Court on Wednesday.
However, the 45-year-old was admonished after specialists ruled that he had not been sexually motivated and had been out of trouble since the incident.
The court heard how he was only wearing a T-shirt and would raise his arms as people went past so it would lift up and expose his lack of underwear.
Pony-tailed Thomson had denied indecently breaching the peace and told the court that he had decided to mow the lawn without any trousers on. He claimed he had a pair of boxer shorts on under his T-shirt, but Sheriff Fiona Tait said she believed the string of witnesses who had seen his genitals.
She found Thomson, who previously kept his job as a postman after being convicted of cultivating cannabis in 2011, guilty of indecently breaching the peace on 9 August last year.
One woman told the court she had been driving on the Pitlochry to Tummel Bridge road when she clearly caught sight of Thomson lifting his top to expose himself.
Sheriff Fiona Tait said: "I have had the benefit of assessing all of the evidence. I may say that I found all three Crown witnesses to be impressive. They didn't seem to me to have colluded. I am satisfied the Crown has proved its case beyond reasonable doubt."