Jilted lover hid in bin outside ex-partner's home for three hours
Christopher Henderson was found by police in bin after smashing ex-lover's windows in Perth.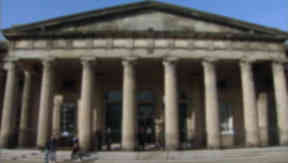 A jilted lover who smashed his former partner's window was found hiding in a bin outside her home three hours later.
Christopher Henderson was discovered cowering in the bin during a search by police officers and had an injured hand from breaking the window.
Perth Sheriff Court was told that Henderson had taken the break-up of his relationship badly and had been struggling to deal with it at the time.
Henderson, 29, Main Street, Abernethy, admitted behaving in a threatening or abusive manner and breaking a window at an address in Hermitage Drive, Perth, on October 27.
He also admitted breaching a bail condition not to enter Hermitage Drive which had been imposed in June this year.
Fiscal depute John Malpass said: "At 2am on 27 October the complainer and her children were in the house when they became aware of the accused knocking on the front door.
"They heard the accused making his way round the side of the house and he was seen through the window. The neighbours heard this.
"They observed the accused at the rear of the premises shouting 'let me in' and the complainer shouting for him to go away. The window was smashed by the accused.
"The police were contacted. They attended the location and carried out a search of the area. The accused was traced later, at 5am.
"He was found to be hiding in the bin at the back door of a neighbouring property. He was injured, with a slice mark to his right arm, which was consistent with the damage caused to the window."
Solicitor Paul Ralph, defending, said: "This was an ex-partner and he has not taken the end of the relationship particularly well. His family have been concerned about him."
Mr Ralph told the court that his client had been held in custody since his arrest at the end of October and sentence was deferred for reports. Henderson was banned from entering Perth as a condition of bail.