Location of historic golf legend's first shop discovered in manuscript
The location of Old Tom Morris' first golf shop has been discovered in a manuscript at the University of St Andrews.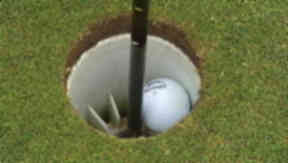 The location of a historic golfing legend's first shop has been discovered in manuscripts from the University of St Andrews special collections department.
Golf history writer Roger McStravick was carrying out research for a book on the four-time Open Champion Tom Morris when he discovered a statement by the 'Grand Old Man of Golf' given around 1878.
The precognition, as it was known at the time, details how he built his own shop in 1848 beside the St Andrews links at what is today 15 The Links.
St Andrews-born Morris opened his own business in 1848 after serving an apprenticeship making golf equipment. He is responsible for designing some of Scotland's finest courses, including Prestwick, Muirfield, North Berwick and the New Course at St Andrews links.
Mr McStravick said: "There has always been a gap in Old Tom's story from 1848 to 1851, before he left St Andrews to create the course at Prestwick.
"Amongst a pile of very old papers, I noticed a statement from Tom amongst the precognitions taken at the time of the Road Wars, when the town was trying to decide whether to have a road along the side the 18th hole of the St Andrews Links.
"In his statement talking about his life around 1848, Tom says that he built his own shop and through statements by others at the time including the Father of the R&A, John Whyte-Melville and club maker Robert Forgan, I was able to find the exact location for this little shop at what is today 15 The Links.
"I was also delighted to discover from the same precognitions that Daw Anderson, who is known as the ginger beer seller, had his own golf shop at 9 The Links with his son and three times Open champion Jamie Anderson living upstairs for almost 10 years during his Open winning days.
"Daw was so much more than just a ginger beer seller and thanks to the University's archives, his true story is beginning to emerge."
Tom Morris' great granddaughter said the discovery was "very exciting" and called for an academic centre for golf to be created at the University of St Andrews. Sheila Walker continued: "There has been a lot of study around my great-grandfather and it is always very exciting when new finds are discovered.
"Roger is commended for his work and importantly this highlights just how essential the University's golf collection is to golf historians and to the field of golf research.
"I understand the University has ambitions to create a dedicated centre for golf-related materials in St Andrews and this recent finding is proof, if proof were needed, how vital and appropriate it is to have the centre of all golf knowledge in St Andrews.
"If there was ever a logical place to establish an academic centre for golf in the world, then it is surely here."
Curator of the university's Centre for Golf Collection, Dr Anthony Parker added: "This new research by Roger is a shining example of what can be achieved from the university's collection.
"The University's hopes for a purpose built Special Collections facility to host its golf collection has caught on with many of the greatest golf collectors and organisations around the world donating rare books, photos and written material already.
"We are currently engaging in consultation with a wide number of bodies about our aspirations."