Author claims to have solved mystery of Perthshire 'witch' Maggie Wall
The monument in Dunning, Pertshire, is a fake memorial to a woman who never existed, claims local historian Geoff Holder.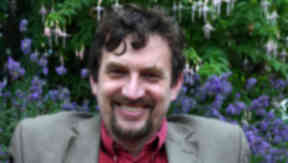 A notorious witch whose monument has attracted visitors to Perthshire for two centuries probably never existed, according to a local historian.
The Maggie Wall monument, near the village of Dunning, supposedly commemorates the death of Maggie Wall, who was burned at the stake in 1657.
It has drawn a steady flow of visitors from all over the world, including Moors murderers Myra Hindley and Ian Brady, who came to Scotland on holiday in September 1965 after they had killed four children.
A photograph of Hindley standing by the monument, with the word "witch" visible next to her, was published during their trial in 1966.
But author Geoff Holder, in a new book, Paranormal Perthshire, claims that the monument is probably an 18th-century folly and the name "Maggie Wall" was an invention based on a local landmark.
His research turned up no mention of anyone called Maggie Wall in parish records, and despite a wealth of anecdotal information, including suggestions that she was a parlourmaid who was accused of witchcraft after she became pregnant by the local laird's son, there was no record of her execution.
Some 1500 Scots, mainly women, were killed during a witchhunt launched by King James VI that lasted 100 years.
Mr Holder said: "It's the only historic monument to a named witch in the country and it's fascinated me since I first encountered it 15 years ago.
"I first began to suspect the monument when I saw that there are details recorded of all those executed in the area but in all the databases there are no records of her.
"I don't believe it was a hoax, I believe it was some kind of folly and that's important."
Mr Holder said other evidence suggested the most likely explanation was that the monument was put up by a local schoolmaster more than 100 years after Maggie Wall was supposed to have died.
He said: "I found a map of the area from the 18th century and saw that the field was called 'Maggies' or Muggies' walls,' so I wondered if it originated from the name of a field, not a person.
"There was gunpowder involved in the building of this monument and the boulders are archeologically diagnostic - it couldn't have been built earlier than the late 18th century.
"Obviously with such a build, money must have been exchanged so I then went through all factors records for the estate. I found out that the local schoolmaster at the time, a man called David Balmain was tenant of Maggie's walls and was also a local builder. All the dates fit."
But Mr Holder, 52, a Stirling University graduate who has written more than 20 books on the paranormal, said he was still unsure why Balmain would have embarked on such a venture.
He may have been commemorating two of his relatives who were investigated for witchcraft, but not charged, in 1662, or he may have used "Maggie Wall" as a representative figure for all the 1500 so-called "witches" who were murdered in the 17th century.
"We know that Maggie Wall didn't exist, we know that the monument dates around 1797, and we know David built it, but we still really don't know why," Mr Holder said.
"I genuinely believe that it is one of the most fascinating and astonishing monuments in the entire country."
LINKS