Syrian torture photos 'most distressing' Scots forensic expert has seen
Dundee University's Professor Sue Black says images show Syrian regime 'guilty of war crimes.'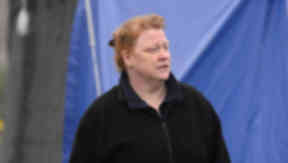 A leading Scottish forensics expert compared the compared the killing of thousands of people in Syria to the Holocaust.
Professor Sue Black from the University of Dundee studied thousands of pictures of bodies of young men who are believed to have been tortured by the Syrian regime.
She says the photographs released in the last few days were the most "distressing" she had ever seen.
Political leaders, including foreign secretary William Hague and US secretary of state John Kerry, have gathered in Switzerland for peace talks aimed at ending the three-year conflict.
Mr Kerry said that the images showed "systematic torture and execution of thousands of prisoners" in what he described as "an appalling assault not only on human lives but on human dignity and on every standard by which the international community tries to organise itself".
Damascus has denied allegations of abuses after the emergence of the gruesome images, apparently smuggled out by a defector from the regime and published in a report commissioned by Qatar, which supports Syrian rebel and opposition groups.
But former war crimes prosecutors who examined more than 55,000 photographs said to show the emaciated corpses of victims say they implicate the "agents" of the Assad regime, while Mr Hague said there was "compelling and horrific" evidence of abuses and those responsible should be held to account.
Mr Kerry also said there could be no place in the post-war government for "the thousands of violent extremists who spread their hateful ideology and worsen the suffering of the Syrian people".