Tycoon sues ex-girlfriend for cost of designer handbag and shoes
Shop manager was ordered to pay ex-partner Steven Stewart £1000 for a Louis Vuitton handbag and pair of Christian Louboutin shoes.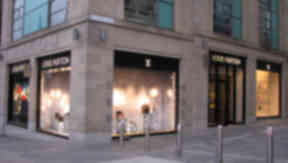 A plumbing tycoon took his former lover to court to claw back the cost of a designer handbag and shoes he bought her on a romantic weekend break.
Company director Steven Stewart, 45, raised a case to recover the price of a pair of Christian Louboutin shoes and a Louis Vuitton handbag.
He sued his ex-partner Leslie Marelic, 26, over claims he had bought the luxury items on his credit card but expected to be repaid as he considered the money to be a loan.
The wealthy businessman won his case at Perth Sheriff Court - but was berated by a sheriff for acting out of "malice" to claim back money he did not need.
He said the £1001.70 Mr Stewart wanted her to pay him represented a huge amount for his ex-girlfriend, but only a little to him.
Sheriff William Wood said: "It's quite clear this current dispute has been borne out of a failed relationship. Mr Stewart recognised that if there had been a reconciliation, no claim on the monies would have been made.
"I don't think it speaks particularly highly of Mr Stewart that he has sought to pursue this loss for what, to Miss Marelic, is a considerable sum. From reading your credit card statements, Mr Stewart, this is not a particularly considerable sum.
"This matter has been borne out of malice to a certain extent, but that does not mean the money is not due, and I find that it is due."
Miss Marelic was ordered to pay her former lover £1,001.70.
Perth Sheriff Court was told that Miss Marelic, now an Aldi supermarket manager, had been earning minimum wage working for Mr Stewart's plumbing company in Perth when they got involved in an 18-month relationship.
The relationship had been rocky at the start of 2012 and Mr Stewart arranged a romantic weekend at the five-star Sheraton Grand spa hotel in Edinburgh in an attempt to rekindle the romance.
During the trip he used his credit card to buy the Louboutin shoes from Harvey Nichols for £565 and a £890 handbag from the Louis Vuitton store.
He said: "We usually went to Harvey Nichols for a couple of glasses of wine and a bit of shopping. She saw a couple of items she liked and asked if I would give her a loan.
"It was certainly not a gift. She offered to pay me back at £50 a week from her wages because she was working in the office. I got her to sign a bit of paper.
"I asked her to write on Sheraton headed notepaper in the room that she would pay me back and she signed it. I just want the money back for the loan we agreed."
Miss Marelic told the court that she had wanted the items and that Mrs Stewart had paid for them with his American Express card.
She said they were gifts and that she had signed the chit "under duress".
She claimed she had been "terrified" of the tycoon and had contacted the police about him.
Miss Marelic said she had not claimed back withheld wages and gave Mr Stewart £200 in cash from her bank account in a bid to pay him back.
She said: "We had a big fight and I put it on the desk in front of him. He said he had given me everything all the time so I said I had taken everything out of my account and thrown it back at him.
Asked if she had kept the shoes and handbag, she said: "Obviously - they were gifts."
Sheriff Wood said the law in Scotland was clear that there should be a presumption against "gifts" and it was for the recipient to prove an item had been gifted to them.
He noted that Mr Stewart had lavished other gifts on Miss Marelic during the relationship, including a Tenerife holiday, and had not tried to claim the money back for those.
Stewart, from Perth, employed Miss Marelic from the end of 2011 in the heating engineering business which was set up by his father more than 30 years ago.
He initially sued Miss Marelic for £1445 in a small claims action, but the sum was revised down to account for her withheld wages and the sum she handed to him.
She said: "When you give someone a gift, it's a gift. It's ridiculous to ask for it back. I think it's low of him to ask me for a gift that he gave me.
"I can't believe that anyone would have the audacity to go to court like that. Everyone I spoke to just thought this was bitter, petty and ridiculous."
Her mother Gill said: "It's fantastic if your child wants to marry someone with lots of money, but you want them to be a wonderful person first. He wasn't."