Player shouted homophobic abuse at openly gay referee during match
Dale Ritchie subjecting amateur referee Joe Richardson to anti-gay abuse while he was in charge of match.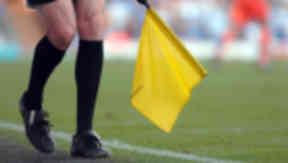 A gay referee said he was forced to give up officiating after being subjected to a tirade of homophobic abuse during a match.
Joe Richardson, 29, claimed a lack of support from football's governing bodies forced him to quit, as his abuser was convicted on Tuesday.
Builder Dale Ritchie, 25, admitted subjecting the amateur referee to anti-gay abuse while he was in charge of a match in April last year.
Perth Sheriff Court was told that Ritchie called the referee "a faggot" and "a poof" before directing a stream of abuse at him at the end of the match.
Fiscal depute Robbie Brown told the court: "He called him faggot, poof, and as he was leaving the pitch at the end he was told the only reason he was refereeing was so he could watch boys in tight shorts."
The prosecutor told the court that the incident happened during a match between Perth United and Bridge of Earn amateurs at Victory Park in Bridge of Earn, Perthshire.
Ritchie, Newhouse Road, Perth, admitted breaching the peace by shouting homophobic remarks to Mr Richardson on April 13 last year.
He admitted the offence was aggravated by prejudice relating to sexual orientation.His solicitor, Billy Somerville, played down the offence and said it was created under new legislation in 2009 and that "we were stuck with it."
Mr Somerville said: "I can only imagine that if everyone at a football match who made derogatory remarks to the referee was prosecuted then the prosecutor would be snowed under."
But Sheriff Lindsay Foulis said he accepted that remarks were often made, but pointed out that the majority of them were not of a prejudicial nature covered by the new law.
He said that was backed up by the public outcry created by the racial abuse of schoolboy player Jordan Tapping, who left the field in tears after a weekend match at Peterhead, when he was subjected to vile racist abuse.
The sheriff noted that Ritchie, who is unemployed, had a previous conviction for a racially aggravated breach of the peace and deferred sentence for reports until April.
Openly gay Mr Richardson, from Dundee, said he gave up football after "six months of hell and lack of support" from the local referees' association.
He said: "I was homophobically abused and my partner threatened.
"This was reported to the amateur league and I also informed my referees' association about the abuse and for support in dealing with the matter.
"The secretary told me it was up to me to deal with on my own."
"I have never hidden the fact I am gay from the players and in 12 years as a referee this is the first time it has been used to abuse me.
"The fact I was left to deal with this on my own has caused depression and left me feeling isolated as at no point did the referee association ask me how I was coping."
Mr Richardson said he also had his phone stolen while he was in charge at a Scottish Women's Football League match on September 1 at Glenesk Park in Dundee, between Tayside Ladies and Jeanfield Swifts LFC.
He said: "The matter was reported to the police and to date no one has been found for the theft and all attempts to discuss the matter with the club, SFA, SWFL and the local referee association have proved fruitless.
"All parties are refusing to accept liability so I am left out of pocket."
Mr Richardson reported the incidents to the head of refereeing John Fleming and SFA chief executive Stewart Regan, but was told it was a matter for the local referees association to deal with.
He said he was frustrated by the lack of action and berated the authorities on Facebook. As a result of his outspoken comments, he was expelled.
He said: "I will have to accept the fact my refereeing career is over for publicly highlighting failures by management committee of the referee association."
The Angus and Perthshire Referees Association made no comment.