Paedophile who abused three young girls is jailed for nine years
Colin Brown was earlier convicted of raping two young girls and molesting a third in Dundee.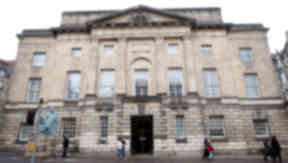 A predator who "robbed three girls of their childhood" after subjecting them to a catalogue of sexual abuse was jailed for nine years on Friday.
Calls of "yes" rang out from the public benches at the High Court in Edinburgh as Colin Brown was sentenced.
Brown, 43, formerly of Exchange Street, Dundee, was earlier convicted of raping two girls and molesting and trying to rape a third victim.
A judge told Brown that she was satisfied that he "presented a serious risk of harm to children".
Lady Scott ordered that he be supervised for a further three years and warned that he can be returned to prison during that period if he breaches conditions of his release on licence.
The judge said that Brown's first two victims, who were the youngest targets of his abuse, were "utterly defenceless" and the third, who was in her teens, had tried to fight back.
Lady Scott said: "Your victims have been left robbed of their childhood."
The judge said Brown's convictions showed a persistent course of conduct by him over a period of about four years and the second victim had spoken of being raped "on numerous occasions".
Brown preyed on one girl from the age of three and molested her and tried to rape her on one occasion at a house in Dundee between March 2001 and May 2002 when she was aged between three and four.
He assaulted and raped a second girl on various occasions between March 2001 and January 2004 at a house in the city when she between five and eight years old.
Brown raped a third victim before her 14th birthday and again after her birthday at houses in Dundee.
He had denied the offences but was found guilty by a jury at an earlier trial of indecent behaviour, attempted rape and rape.
Defence counsel Mark Stewart QC said Brown's position remained consistent, but he accepted he had been convicted of serious offences.
"The inevitable consequence is a significant custodial sentence will be handed down," he added.
He pointed out that Brown had no previous convictions for similar offences or other serious crimes. Brown was put on the sex offenders register for life.