Scottish Star Wars actor: Role in new films 'would have bored me'
Denis Lawson portrayed rebel pilot Wedge Antilles in all three of the original films.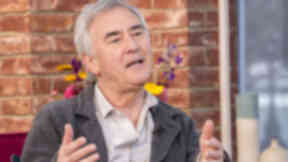 Scottish Star Wars actor Denis Lawson has revealed he turned down the chance to appear in the new sequels in the saga because they would have "bored him".
Crieff-born Lawson, uncle of fellow Star Wars star Ewan McGregor, said he was approached by Disney, who bought the series' makers Lucasfilm in 2012, but passed on the offer.
The 66-year-old is one of just nine actors to appear in all three films in the original trilogy, playing rebel pilot Wedge Antilles.
The character has since appeared in novels, comics and videogames, becoming a fan favourite among Star Wars aficionados.
But speaking at a screening of his most recent film, The Machine, at Strathearn Artpsace in his home town, Lawson revealed he would not take part in the new movies.
Asked if the next film of his to be shown at the Crieff cinema would be the seventh Star Wars movie, he said: "I'm not going to do that."
Asked if it was because Disney had taken over the franchise, he replied: "They asked me but it just would have bored me."
He did not elaborate further on why he had declined the part and it is as yet unknown if his nephew, Ewan McGregor, will reprise his role as Jedi knight Obi-Wan Kenobi.
The Machine was the first new film to be show in Crieff since its cinema closed in 1983.
Lawson attended the red carpet event with his mother, Phyllis, and the pair were welcomed to Strathearn Artspace by piper Finn Mannion.
The actor revealed he was instrumental, along with other A-list stars with ties to the area, in helping project leaders David Campbell and Tom Barron get permission to use the former public library on Comrie Street as a cinema and live performance venue.
He said: "Right at the inception, Dave and Tom got in touch with me.
"They asked me to sign a letter and I got in touch with Brian Cox and he signed it and my nephew Ewan signed it and Gerard Butler.
"They all got on board and that really pushed that element through and they (David and Tom) got permission to use the building.
"That's how I got to know about it and was happy to get it moving."
The actor, who is also known for his role in Bill Forsyth's Local Hero, added: "This project will bring people back into Crieff, and I think that's brilliant."
The first film in the upcoming Star Wars sequel trilogy is expected to be released in December 2015.