Former SFA chief executive David Taylor dies suddenly aged 60
Uefa executive director David Taylor, who was 'astute, forward-thinking and passionate', dies.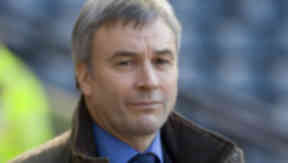 David Taylor, former chief executive of the Scottish Football Association, has died aged 60.
Uefa, for whom Mr Taylor was working as an executive director, confirmed he had died on Tuesday after taking ill.
The Scottish FA President, Campbell Ogilvie, paid tribute to his "astute, forward-thinking and passionate" predecessor.
A Scotland supporter since childhood, Mr Taylor became the first chief executive of the Scottish FA in 1999, succeeding the long-serving secretary, Jim Farry.
"On behalf of his friends and former colleagues at the Scottish FA, and throughout Scottish football in general, I would to express our profound sadness at the tragic news of David's death," said Mr Ogilivie.
"I would also wish to send our deepest condolences to his wife Cathy, and their children James and Alan, at this dreadful time.
"David was a solicitor to trade but it was his love of Scottish football and, in particular, the Scotland national team that stirred his passion during his tenure as chief executive.
"He was great company, had an astute business mind and a forward-thinking approach to the game that, allied to his patriotism as a member of the Scotland Supporters Club, helped take the Scottish FA forward administratively.
"It was no surprise to any of us who witnessed his work at close hand when UEFA came calling for his services as General Secretary in 2007. He has remained a friend and supporter of the Scottish FA and the game in general in this country and he will be dearly missed by all of us."
Born in Forfar in 1954, David was educated at Dundee High School before graduating from Edinburgh University with an LLB degree.
He qualified as a solicitor and practised until 1985, during which time he added to his legal qualifications with an MSc in Economics, and an MBA.
He joined the Scottish Development Agency in 1985, and held a succession of senior positions before being appointed the first director of Scottish Trade International, a body set up to promote Scottish business overseas, prior to his appointment to the Scottish FA.