Sixteen music fans are injured on T in the Park ride at Balado
The Star Flyer ride was brought to an abrupt halt at the festival's campsite.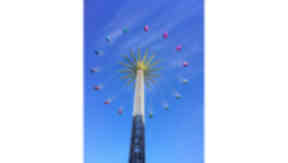 T in the Park have launched an investigation after 16 people were hurt when a fairground ride was brought to an abrupt halt mid-flight at the festival.
The 200ft-tall Star Flyer ride was stopped suddenly and lowered to the ground in the early hours of Friday morning at the Balado festival's campsite.
It is thought staff pressed the emergency stop button after believing a passenger had become ill, but the ride descended too quickly.
Most of the injured riders were treated at the scene but one was transferred to hospital before being released.
A T in the Park spokeswoman said: "The Star Flyer ride in the campsite has been shut while we investigate the circumstances of the incident.
"There were 15 people treated onsite for minor injuries and one person was transferred to hospital then released."
T in the Park's Star Flyer is similar to a ride which was based in Edinburgh in December last year for the capital's winter festivities, but is not the same attraction.
The plastic backing from one of the Edinburgh Star Flyer's seats fell 100ft onto a box office roof before hitting the ground.