Police arrest 52 people during this year's T in the Park music festival
Police Scotland said they were 'delighted' at the behaviour of the majority of the revellers as arrest rate drops from last year.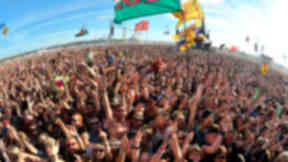 Police have said they are "delighted" with behaviour at T in the Park after arrest numbers were down from the 2013 festival.
Officers reported a total of 52 arrests over this year's festival, while last year's festival saw 91 arrests.
Chief superintendent Jim Leslie said: "Generally the behaviour of fans this year has been excellent.
"Praise must go to them for playing their part in keeping crime figures down; for the majority, people were in tremendous spirits and focused on being here for the right reasons, to enjoy music and have a great time with friends.
"Our officers work tremendously hard at T in the Park and we've consistently had a great rapport with fans here, ever since the festival arrived in Kinross in 1997.
"We're looking forward to taking the framework we've established with the event promoter and stewards, which works so well, and taking it to Strathallan Castle."
Geoff Ellis, festival director of T in the Park, said: "It's been magical, and I don't just mean this weekend. T in the Park came to Balado with a capacity of just 25,000 people eighteen years ago and since then it's given us a home from which we've grown in amazing ways.
"Over the years we've worked with the Kinross community to establish this event as one of Europe's best festivals. That local support has been brilliant and we're hugely grateful to those people who have become friends for life.
"I'm not ashamed to say I shed a tear at the end of the night. The memories made on this site have been epic but we're also looking forward to making new ones and Strathallan Castle is the perfect setting for a fresh, new chapter."
The onsite medical team reported 980 visits to the hospital tent in comparison with 1160 in 2013 and said these were mainly for minor, weather related ailments and sprains and strains.
Nick Moore of the Scottish Ambulance Service said: "Our team have thoroughly enjoyed working at T in the Park. With 85,000 people on-site it's a massive job for us but the vast majority of people are brilliant at heeding our advice and looking after themselves.
"Working closely in partnership with festival organisers, we've coped extremely well with this year's sell-out crowd and look forward to joining everyone again at T in the Park's new home next year."
From next year the festival will be held near Strathallan Castle.