Teenagers jailed for three years each for trying to start 'Dundee riot' on Facebook
Shawn Divin, 16, and Jordan McGinley, 18, urged people to go to the city centre with guns and 'kill some dafties'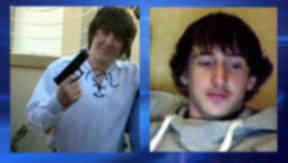 Two teenagers who set up a Facebook page during the English summer riots urging people to "kill some dafties" in Dundee have been jailed for more than seven years in total.
Shawn Divin, 16, and Jordan McGinley, 18, called for people to converge on Dundee city centre between 7pm and 10pm on August 17 this year on the social networking site page, titled "Riot in the toon".
Sheriff Elizabeth Munro called the pair's actions "one of the worst breaches of the peace I have ever had to deal with" as she sentenced McGinley to three years in jail and Divin, who was on bail at the time, to four years and three months.
Divin's punishment included a one-year sentence for breaching a previous probation order and three months for breaching bail conditions.
A message posted on the site by Divin stated: "Only join if yir actually gonna come - if anyone has guns bring them down to this - kill some f***|\*| daftys."
Procurator fiscal-depute Lisa Welsh told Dundee Sheriff Court that police had been tipped off about the Facebook page by a journalist at a Glasgow-based radio station.
'Joke'
When police questioned the pair they insisted the site had been set up "as a joke".
Ms Welsh said: "Given the civil unrest around the country an inquiry team had been set up by Tayside Police in order to respond to such threats and the likelihood of rioting in Dundee.
"At the time 221 people had said they would attend this event and 68 said they would maybe attend."
Other messages on Divin's Facebook page stated: "How's nae c*| up for goin mental in the head and looting shops and taking police c*|s out the game", "Show the English how it's really done" and: "If it does happen are you up for takin a police guy oot the game?"
Divin, a prisoner at HMP Polmont and McGinley, of Scotscraig Road, Dundee, pled guilty to breaching the peace between August 9 and August 11 this year.
Jim Laverty, defending Divin, who had been released from court on bail just a day before the offence, said his client should not face a jail term of the same length as as two Englishmen who received four-year terms for a similar offence.
Mr Laverty said: "This was crass, stupid and insensitive in the days following the commencement of mass public disorder in England."
Paul Parker Smith, for McGinley - who has previous convictions for carrying knives and theft - added: "Mr McGinley at the time thought it was just a bit of fun.
"He was certainly not serious about there being a 'riot in the toon'."
Guns
Sheriff Elizabeth Munro jailed Divin for four years and three months - which included one year for breaching a previous probation order and three months for breaching his bail by inciting riots.
Passing sentence, Sheriff Munro said: "What made your actions particularly serious was that you both referred to weapons, and Mr McGinley, you referred to guns.
"This is one of the worst breaches of the peace that I have ever had to deal with.
"The page was created when there was widespread disturbance and both accused intended for it to spread to Dundee.
"It is fortunate that the internet activity of the two accused was noticed quickly and it is credit to the police that no rioting took place in Dundee."
Divin hurled foul-mouthed abuse at Sheriff Munro as he was led to the cells, calling her "sick".
McGinley looked over to his family in the public benches, who gasped and burst into tears as the sentence was passed.
More than 3000 people were arrested following the riots that swept across England between August 6 and 10 this year, which left five people dead and caused an estimated £200m of damage.