University nominated for two prizes in higher education awards
The University of Dundee was shortlisted for work in research and supporting young researchers.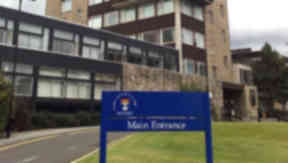 The University of Dundee has been nominated for two prizes at this year's Times Higher Education (THE) Awards, including Research Project of the Year.
The University's Centre for Anatomy and Human Identification (CAHID) has been shortlisted for its work in developing techniques to identify offenders by examining their hands.
The technique has been deployed in more than 40 cases in the UK and internationally and has helped secure two life sentences and over 100 years of incarceration for perpetrators of child abuse.
Professor Sue Black, director of CAHID, said, "The research team that has been examining variation in hand anatomy to assist investigation of crime has been overwhelmed at the impact our work has received in the wider community.
"We are delighted that the work what we have done has been considered worthy of shortlisting for the Research Project of the Year prize."
The University has also been shortlisted for Outstanding Support for Early Career Researchers for a collaborative project with the University of St Andrews.
The two universities have developed a mentoring scheme for early career researchers. This provides the opportunity for research staff to be matched with a mentor either from their own institution or from their neighbouring institution.
Dr Sandra Oza, Researcher Development and Projects Officer at Dundee, said, "I am delighted that the University has been shortlisted for this prestigious award, which recognises the supportive researcher environment that we have nurtured for early career researchers in Dundee.
"It is my privilege to have worked with peers in St Andrews to help enhance the researcher development landscape and look forward to developing further collaborative projects in the future."
Hundreds of nominations for outstanding institutions, departments and individuals were submitted across 18 categories covering the full range of university activity.
John Gill, THE editor, said, "This celebration marks the tenth anniversary of the Times Higher Education Awards, ten years in which higher education has undergone huge changes but has always risen to the challenges it has faced.
"Our universities and colleges are among the nation's most respected institutions, both at home and internationally, and it's THE's great privilege to have played a part in celebrating their achievements over the past decade."
The winners will be announced on Thursday 27 November 2014 at a ceremony in London.