Stayin' Alive: Golfer's life saved as friends performed CPR in time to Bee Gees
Alan Linton collapsed while playing a round of golf with friends in Fife who then performed CPR.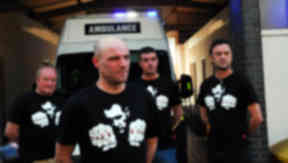 A golfer's life was saved by his friends singing the Bee Gees song Stayin' Alive while they gave him CPR.
Alan Linton collapsed with a heart attack as he played a round of golf in Fife.
The 39-year-old owes his life to the fact his friends remembered a TV advert, starring Vinnie Jones, which told people to give chest compressions in time to the 70s disco classic.
On Tuesday, Mr Linton met and thanked the paramedics and the 999 call handler who also helped save him.
In a recording of the 999 call from Charleston Golf Course, near Colinsburgh, one of Mr Linton's friends, Paul Pinkney, can be heard shouting: "I'm doing the staying alive thing."
Mr Linton, who collapsed on February 5, said: "I feel very lucky and overwhelmed that the song saved my life. The song is the reason I'm alive because they used that beat so it's a major contribution to why I'm here.
"I do like the Bee Gees but it was a bit funny, after I got home, my wee girl started singing that song. I've no idea why, it must have been on the telly, and it brought it all home to me that that was the song that probably saved my life."
Mr Linton, from Ladybank in Fife, had gone out golfing with friends Brian Henderson, Michael Rennie and Mr Pinkney when he took ill on the sixth green.
He said: "I was walking back to my golf bag and I was feeling a bit dizzy and I got to my bag and went down onto my hunkers and I saw bubbles. According to Brian when I went down on my hunkers I just carried on, onto my back - and that's as much as I know."
Initially, his friends thought he was joking. Mr Rennie said: "When he actually fell over we thought he was messing about because of the way he went down. And Brian went over to give him a kick to get up and that's when we realised it was a lot more serous."
The group then leapt into action, with Mr Henderson phoning an ambulance and Mr Pinkney starting CPR using advice from the advert.
Mr Pinkney said: "The ad had been on the week before; it had been on a couple of times. If it hadn't have been for Vinnie Jones you'd have looked at it and gone 'Yeah, whatever' but because he was doing it it just sticks in your head. It came straight to us. I was playing the whole thing in my head. We sang it out loud for a bit. It obviously works."
Mr Linton was airlifted to Ninewells Hospital in Dundee where he remained for three weeks.
On Tuesday, he thanked his friends, paramedics and call handler for saving his life.
He said: "I'm overwhelmed. It was total teamwork rather than just my friends; it was people I didn't even know. I'll be indebted to them for a long time. It was a total shock, it was very emotional. I still can't believe it happened to me. I feel great now.
"I listen back to the tape [of the 999 call] and it just feels like somebody else that it happened to."