Prison officer's text messages revealed during escaped convict trial
Christine Robertson was found in bed with James 'Jimmy' Holland after he absconded from an open prison.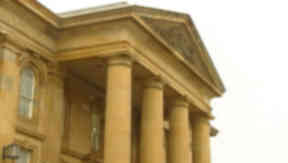 A female prison officer found naked in bed with violent convict James Holland exchanged text messages with a contact called "Holland" minutes before he absconded from prison, a court heard.
Christine Robertson denies aiding and abetting James "Jimmy" Holland, a notorious convict with a record for violence behind bars, in absconding from Castle Huntly jail last year.
A trial at Dundee Sheriff Court earlier heard how police found Robertson and Holland naked together in her bed when they raided her home in Reform Street, Monifieth, in the early hours of March 17 last year.
A police officer told the court how she examined a mobile phone apparently belonging to Robertson which was found in her living room after officers raided her house.
PC Julia Key said the phone had a contact in it called "Holland" and that number had been dialled once by Robertson's phone and had exchanged text messages repeatedly with it.
Three of the messages were received between 7.30pm and 7.40pm on March 16, 2011.
The trial has already heard that Holland, described as one of Scotland's "most feared and dangerous prisoners", absconded from the open jail at around 8pm that day.
PC Key told the court that one message received from the contact called "Holland" at 7.40pm, read: "Thank you my paintbrush hahaha hahaha the wee boy looks like us xxx buh bye."
A second, received at 7.37pm read: "Haven't looked will let you know sexy."
A third, received a minute earlier, said: "Aww god you're right wee bugger. Right my princess talk after bang up."
The court was told that "bang up" is a term used by prisoners to refer to being locked in their cells.
A fourth message received by Robertson's phone at 7.31pm said: "got your card. love you and talk the night doll."
Meanwhile, the court heard of three undated messages sent from Robertson's phone to "Holland", which read: "Ok honey monster xxx", "what's the post mark?", and finally: "Looks like Lars - a bit of me and a bit of you."
Another officer, PC Fiona Davis, told the court that she and a colleague interviewed Robertson at Dundee Police HQ the night she was arrested.
Robertson was asked: "We don't know if you've invited him or if he's turned up or if there's duress. There's been stuff recovered in his cell like letters and cards.
"We believe there has been some kind of relationship between you. From that we believe you have formed a relationship with him. Is that the case?"
She replied: "No comment."
One of Robertson's fellow prison officers earlier told the court that Robertson "appointed herself" as Holland's personal prison officer when he arrived at Castle Huntly.
The trial has already heard how police received intelligence that Holland was at Robertson's Angus flat - before breaking down her door in a planned operation to locate him.
When they burst in they found Holland and Robertson naked together in her bed.
Holland then had to be blasted with a Taser stun gun to subdue him as he waved a knife at officers.
Robertson, 45, of Reform Street, Monifieth, Angus, denies aiding and abetting James Holland in absconding and attempting to defeat the ends of justice.
Robertson has lodged a special defence of coercion in the case.
The trial, before Sheriff Tom Hughes continues.
IN DETAIL