Scots village Dull to officially twin with US town Boring
Locals from around the Dull area became aware of equally-unfortunately named US town and decided to pursue a formal link-up.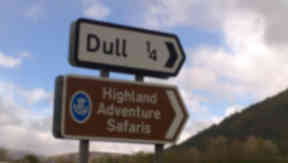 Residents of the Scots village of Dull have proved they have a sense of humour by forging a plan to create formal links with the US town of Boring.
In a move which is unlikely to set pulses racing, the Perthshire village and the Oregon logging town are discussing linking to become Dull and Boring.
Locals from around the Dull area became aware of the equally-unfortunately named American town and decided to pursue a smile-inducing formal link-up.
Officials in Boring were approached about forming a partnership and the idea is to be formally put in front of the US town's planning organisation in a month's time.
Elizabeth Leighton, from Grandtully in Highland Perthshire, came up with the scheme to form the partnership between two of the world's least "exciting" communities when she was on a cycling holiday.
She passed through Boring and thought it would be an ideal partnership with the community of Dull.
She sent an email to her friend Emma Burtles, who lives in Dull, and got in touch with Steve Bates, who chairs the Boring Community Planning Organisation.
Community councillor Marjorie Keddie said: "It might seem like a joke, but this could have real benefits for Dull. Everyone has been smiling at the prospect of the very eye-catching road sign this will inevitably require."
Boring has a population of around 12,000 people while Dull is made up of a handful of houses on the north side of the valley of the River Tay.