Teenager faces 'lengthy' detention for starting Facebook riot page
Liam Allan has pleaded guilty to starting a social network page encouraging people to riot in Dundee.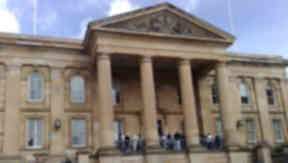 A Scots teenager has been warned he faces a "lengthy" detention after he admitted starting a Facebook page encouraging people to riot during last year's summer disturbances in England.
Liam Allan, 19, started the event on the social networking site titled "City Centre Riot" at the height of the violence and looting in cities across England in August last year.
Days after the English riots began, Allan took to Facebook and started a page encouraging a riot in Dundee and inviting hundreds of friends to take part.
On it he encouraged people to "get suited and booted, crowbars, baseball bats, the lot ... show the English tw**s that we are better rioters than them tea sippers".
Fiscal depute Donna Davidson told Dundee Sheriff Court that police had set up a "major incident room" after being alerted to the page.
She said: "The situation is that on August 4 last year the fatal police shooting of Mark Duggan took place in London. As a result large-scale riots engulfed the city.
"The riots spread to other cities in England, meaning resources were stretched and communities torn apart.
"On August 9 Tayside Police received a telephone call reporting someone had observed the Facebook page entitled City Centre Riot.
"As a result a major incident room was set up to respond to the threat of rioting in Dundee. At 7.30pm that night police officers traced the accused at home.
"He was detained and said 'it was a joke'.
"He was taken to police HQ and interviewed and said it was not meant to be taken literally.
"He said it was just a joke that he and his sister had talked about."
Allan, of Benvie Gardens, Dundee, pleaded guilty on indictment to a charge of breaching the peace on August 9 last year.
Defence solicitor Doug McConnell said he would argue that Allan's case is different to that of two other Dundee teens, Jordan McGinley and Shawn Divin, who were detained last year over similar Facebook pages.
Both received three-year detention terms after admitting starting a page called "riot in the toon" around a week after Allan's page was found.
The pair are awaiting the outcome of an appeal over their sentences.
Mr McConnell said: "He's a young man with no previous convictions. There are specifics of this case that are different from that other case.
"He was remanded in custody for seven days when he first appeared in court and was released on bail. He's never been in trouble or in the courts before."
Sheriff George Way deferred sentence until next month for background reports and released Allan on bail conditions including a ban on using the internet.
He warned Allan: "On a comparative basis a very lengthy custodial sentence is inevitable."