Video of children unwrapping present to reveal father's return from Navy
A video of two children unwrapping a rather large Christmas present has gone viral on Facebook.
Heartwarming footage shows the ultimate Christmas story unfolding - as two children tear into a gift, only to reveal their father home early from the Navy.
The youngsters from Plymouth opened an early Christmas present, with no idea that it was their Royal Naval engineer dad Scott Lee Stevens, back early from a three-month tour of duty in the Mediterranean.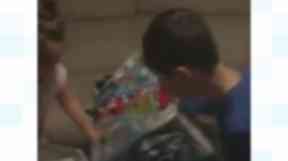 Alfie and Lily were taken downstairs by their mother Ruth and spotted an enormous wrapped present. They were told it had been brought in the night by "an elf".
Ruth then uploaded the video to Facebook and it has since gone viral - she hopes it puts a smile on some faces this Christmas.