Bank of England governor hints at interest rate cut 
Mark Carney has signalled a possible interest rate cut in wake of Brexit vote.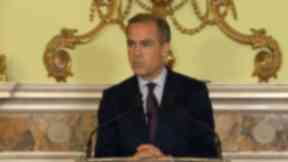 The Bank of England governor has signalled a possible interest rate cut following Britain's vote to leave the EU.
Speaking about how the Bank intends to deal with economic uncertainty following the Brexit vote, Mark Carney said that "some monetary policy easing will likely be required over the summer".
Any decision would be taken by the Bank's Monetary Policy Committee, which is due to make an initial assessment in July and make a further report in August.
Interest rates are currently already at a record low of 0.5% and the suggestion of a further cut saw the pound weaken against the euro, dropping by more than 1% to 83.845 pence per euro, its weakest in more than two years.
The Bank of England governor also hinted that the Bank could pump more cash into the economy under its quantitative easing programme, saying the Financial Policy Committee could take action when it meets next Tuesday.
Those comments fuelled further gains on the FTSE 100 Index, which surged to its highest level since last December.
Mr Carney also warned that uncertainty from the Brexit vote could "weigh on our economic prospects for some time", but he stressed that the UK's economy was "flexible" and the country "can handle change".
He said the Bank's role was to ensure Britain's banks were resilient and provide "regulator certainty".
"Nothing in financial regulation has changed," he said, adding "the rules are the rules".