Anti-hunt protesters march through Central London
The crowds are calling for an end to badger culling and animal hunts.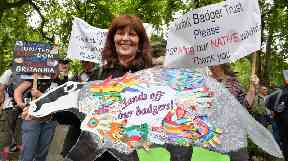 Campaigners against badger culling and blood sports have staged a protest through central London to Downing Street.
Springwatch presenter Chris Packham was among the crowds calling for an end to the slaughter of wildlife.
He earlier described such activities as a "dying business".
The protests called for an end to the controversial practice of badger culling, as well as driven grouse shooting in which birds are flushed out towards shooters.
Marchers also urged Prime Minister Theresa May to keep the ban on fox hunting.
A rapidly growing number of people have had enough cruelty and criminality in the UK countryside. > We've had it with snares, leadshot, illegal persecution. We've had it with a lack of scientifically informed decisions and animals being ripped to pieces with dogs. We've had it with our dwindling wildlife being wasted by psychopaths who kill for pleasure. > Killing wildlife for fun is a dying business.

Chris Packham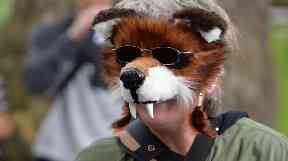 Many of those taking part carried banners stating "Kill the Cull" while some wore fox and badger masks.
They chanted "Save our badgers, stop the cull", "Save our foxes, keep the ban" and "There's no excuse for animal abuse".
Both badger culling and blood sports remain contested issues.
Some farmers say that killing badgers helps to prevent the spread of TB to cattle, though that claim is disputed.
Mrs May also revealed that she had "always supported fox hunting" and would be in favour of holding a free vote over rolling back the current ban before the last general election.
That policy has since been dropped, with poll suggesting that the majority of Britons back the current ban.