Kate too ill to take George to his first day of school
Prince George will start primary school on Thursday morning at Thomas's Battersea.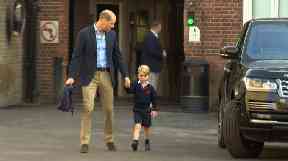 Prince George will be taken for his first day at school today - but his mum remains too ill to go with him.
The Duchess of Cambridge is suffering from acute morning sickness as she has done with her previous two pregnancies.
Prince George will be taken to school by his Dad, the Duke of Cambridge, as planned.
The four-year-old is starting a Thomas's Battersea - a private school in south London.
The school is about 20 minutes drive from Kensington Palace to where the Cambridges relocated over the summer.
They moved from their house in Norfolk, Anmer Hall, when the Prince William gave his job as an air ambulance pilot so he can take up more work on behalf of the Queen.
The preparatory school, which costs £18,000 per year, was chosen by the Duke and Duchess so they can give George as normal a life as possible.
He will return home to Kensington each night.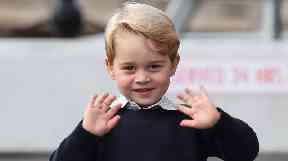 His father and uncle, Prince William and Harry, similarly attended preparatory schools close to Kensignton Palace.
William and Kate announced on Monday that there were expecting their third child.
They were forced to make a statement after the Duchess cancelled an engagement as she was too unwell.
Doctors are treating her at Kensignton Palace.
She has Hyperemesis Gravidarum - acute morning sickness which requires hydration and nutrients.
A Kensington Palace spokesperson said: "Unfortunately The Duchess of Cambridge remains unwell, and will not be able to accompany Prince George on his first day of school.
"The Duke of Cambridge will drop off Prince George this morning as planned."