Government's Brexit Bill wins first Commons vote
MPs have backed the European Union Withdrawal Bill by 326 votes to 290.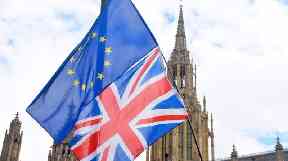 The Government has defeated attempts to derail its flagship Brexit legislation, amid warnings from senior Tories that changes will be required.
MPs gave the European Union Withdrawal Bill a second reading by 326 votes to 290, following more than 13 hours of debate.
A Labour attempt to block the draft legislation was also defeated by 318 votes to 296, majority 22.
Prime Minister Theresa May hailed the Parliamentary win as "historic" and said it allowed negotiations to move on with "solid foundations".
The Government's controversial bill which aims to transpose EU rules and regulations into the domestic law books ahead of Brexit will now move onto its next Parliamentary stage.
The Bill repeals the 1972 Act that took Britain into the European Economic Community and incorporates relevant EU rules and regulations into the domestic law book.
Concerns have been raised that the Bill would give the Government so-called Henry VIII powers, which would allow secondary legislation to be passed with little parliamentary scrutiny.
Labour said Tuesday's results were "deeply disappointing" and the Liberal Democrats described it as "a dark day for the mother of parliaments".
Mrs May said: "Earlier this morning Parliament took a historic decision to back the will of the British people and vote for a bill which gives certainty and clarity ahead of our withdrawal from the European Union.
"Although there is more to do, this decision means we can move on with negotiations with solid foundations and we continue to encourage MPs from all parts of the UK to work together in support of this vital piece of legislation."
Seven Labour MPs rebelled against the party whip and voted in favour of the Bill's second reading.
They were Ronnie Campbell (Blyth Valley), Frank Field (Birkenhead), Kate Hoey (Vauxhall), Kelvin Hopkins (Luton North), John Mann (Bassetlaw), Dennis Skinner (Bolsover) and Graham Stringer (Blackley and Broughton).
Shadow Brexit Secretary Keir Starmer said the Bill was a "naked power grab" by the Government.
"This is a deeply disappointing result," he said.
"This Bill is an affront to parliamentary democracy and a naked power grab by Government ministers. It leaves rights unprotected, it silences Parliament on key decisions and undermines the devolution settlement.
"It will make the Brexit process more uncertain, and lead to division and chaos when we need unity and clarity.
"Labour will seek to amend and remove the worst aspects from the Bill as it passes through Parliament. But the flaws are so fundamental it's hard to see how this Bill could ever be made fit for purpose."
Tom Brake, Lib Dem Brexit spokesman, said Labour rebels had "walked hand in hand" with the Tories to give the Government extreme powers.
He said: "This Bill will hand the Government unprecedented new powers.
MPs, especially those who campaigned to leave the EU on the basis of 'taking back control' for our parliament, should be ashamed.
"They have abdicated their responsibility to scrutinise legislation and relinquished parliamentary sovereignty to Theresa May's unrepresentative cabal.
"This is a dark day for the mother of parliaments. The Liberal Democrats will fight to amend the Bill in Committee to stop this affront to democracy.
"Labour rebels have handed the government sweeping anti-democratic powers. A significant number walked hand in hand with the Tories and have given the Government extreme powers not seen since the Middle Ages."