Man murdered ex-Royal Navy officer in botched robbery
Mike Samwell was ran over twice by his own car by Ryan Gibbons in Manchester.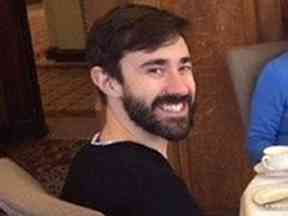 A man has been found guilty of murdering a former Royal Navy officer, after he was run over by his own car in a botched robbery.
Ryan Gibbons, 29, was accused of twice running over Mike Samwell, 35, as the victim's wife watched in horror.
She held his hand telling the ex-serviceman she loved him as he lay dying from "catastrophic" crush injuries to his chest and heart.
The couple were woken in the dead of night as burglars broke into their £450,000 house in Chorlton, south Manchester, snatching the keys to Mr Samwell's Audi S3 sports car from the kitchen table.
Mr Samwell, a nuclear engineer after serving 12 years in the Royal Navy, dashed outside in his underwear, shouting "Get out of the car" - but was then run over.
Gibbons, of Steven Court, Chorlton, had pleaded guilty to burglary and aggravated vehicle taking but denied murder on April 23
He said the plan was to sell the stolen car for £2,000.
The jury at Manchester Crown Court took three and half hours to convict Gibbons, who puffed out his cheeks and glanced towards his family as the verdict was delivered, while Mrs Samwell, supported by her husband's family, quietly wept.
Gibbons is facing a mandatory life sentence.
Raymond Davies, 21, of Castlefield Walk, Manchester, who drove Gibbons and two other men to the address to steal the car, admitted burglary but was also found guilty of manslaughter.
He was cleared of aggravated vehicle taking but convicted of taking a vehicle without consent.
Both defendants will be sentenced on Wednesday morning.
Gibbons' girlfriend Stacey Hughes, 28, also of Steven Court, Chorlton, was found not guilty of assisting an offender