Woman killed man by pushing him in front of moving tram
Charissa Brown-Wellington admitted the manslaughter of Philip Carter in Manchester.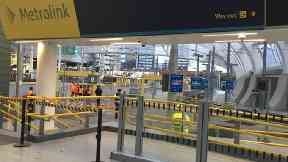 A woman has been sentenced to five years in prison for pushing a man into the path of a moving tram.
Philip Carter died after he was crushed between the tram and platform edge at Manchester Victoria Railway Station in June.
Charissa Brown-Wellington admitted manslaughter after pushing the victim for "getting in her face". Both had been drinking.
A court heard Mr Carter stood no chance of surviving the injuries he suffered.
Counsel for Brown-Wellington claimed the victim was being "offensive and provocative" and was acting only in self-defence.
A psychiatric report on Charrissa Brown-Wellington concluded she has personality disorder which creates a "propensity for impulsive violence".
Sentencing Charrissa Brown-Welllington to five years, the judge accepted her remorse but said: "by your aggressive behaviour you have killed a man."