Pupils taken out of classes for wearing wrong footwear
About 120 children broke strict 'no trainers' rule at the Hart School in Staffordshire.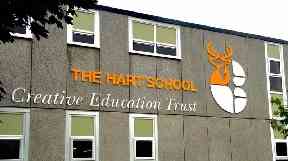 Around 120 pupils who turned up for lessons wearing the wrong footwear were taken out of classes and asked to work at desks in a gym.
The Hart School in Rugeley, Staffordshire, said the students had breached a long-standing "no trainers" rule which classifies black leather Converse shoes as pumps.
Around 20 children were taken home by their parents as a result of the enforcement action at the school on Monday, following the half-term.
The school's policy says footwear must be plain back leather or look like leather, be fully polishable and have no logo.
Guidance was also published on social media in July, before students returned from the summer break, showing shoes deemed unsuitable.
But some parents believe the policy is misleading.
One told the Express and Star the school had changed their policy at the start of the school year banning all leather Converse.
"Most parents had already bought these shoes beforehand and as they are not cheap have refused to change them, which has led to a high percentage of students being sent into isolation."
A spokeswoman for the school said: "At the Hart School we are committed to improving our standards in every aspect of our school life.
"By upholding a high standard of school uniform we are promoting the best behaviour and raising educational standards.
"The school expects all of its students to wear the correct uniform detailed in our published guidelines.
"The school actively works with parents and carers to ensure that students are able to attend school dressed appropriately as per our policy."