Two SAS soldiers charged over Brecon Beacons deaths
Three army reservists died during a march in 2013 on one of the hottest days of the year.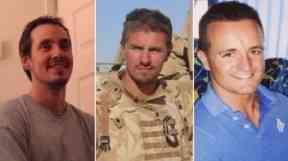 Two special forces soldiers have been charged with negligent performance of duty over the deaths of three reservists during a 16-mile SAS test march.
Lance Corporal Edward Maher and Lance Corporal Craig Roberts were pronounced dead on the Brecon Beacons after suffering heatstroke in July 2013.
Corporal James Dunsby died at Birmingham's Queen Elizabeth Hospital from multiple organ failure more than two weeks later.
At an inquest into their deaths in 2015 in Solihull, coroner Louise Hunt said parts of the planning and conduct of the march were inadequate or not fit for purpose.
She said inadequate supplies of water also contributed to one of the deaths.
All three men died as a result of a "failure to properly organise and manage" the march on July 13 2013, she added.
On Thursday a spokesman for the Service Prosecuting Authority (SPA) confirmed the charges had been directed.
Two SAS soldiers known only as 1A and 1B could face up to two years in prison and dismissal if convicted.
The SPA initially decided not to charge anyone over the deaths but the charges were directed after lawyers acting for some of the bereaved lodged a review.
The family of Lance Corporal Roberts said they were "disappointed" at the decision to charge just two soldiers over the incident, and that there were people in senior positions who should be held responsible.
They told ITV News there were "lots on the day who should have been charged", and that "certain people high-up the chain are getting away with it".