'Speedo Mick' completes 700 mile walk for charity
Speedo Mick has raised more than £16,000 for charity in just a pair of budgy smugglers.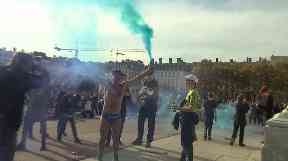 Clad in just a pair of budgy smugglers, a swimming cap, a pair of goggles and a backpack, the aptly named Speedo Mick has just completed a 700 mile charity walk, raising more than £16,000 for charity.
Michael Cullen - Speedo Mick's alter-ego - completed his trek from Liverpool to Lyon on Thursday, raising funds for his city's Alder Hay Children's Hospital.
In the last three years, the semi-naked scouser has raised more than £100,000 for charities, collecting at his beloved Everton's football matches and swimming the English Channel - where the inspiration for his outfit came from.
Despite temperatures turning chiller during his month-long jaunt, Speedo Mick said he "really had almost forgotten" that he has been marching along almost in the buff.
He continued: "Sometimes you do feel a bit vulnerable and I'm still in a position to get a bit of stick, but people are just very generous."
While his sights were set on Everton's Europa League match against Olympique Lyonnais which kicked-off shortly after his arrival in the French city, he said he will continue to carry on fundraising once the match is over.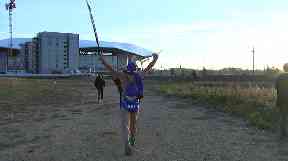 The swimsuit clad father told how he is already considering a walk across the Antarctic, but admitted he was yet to let his wife know of his plans.