Driver, 90, killed couple when he reversed car into them
Philip Bull accidentally ran over Clare Haslam and Deborah Clifton in Manchester.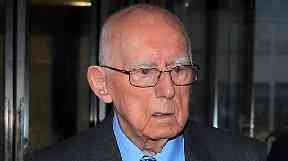 A 90-year-old driver who killed a couple when he accidentally reversed his car into them has been spared jail.
Philip Bull wrongly pressed the accelerator instead of the brake when he dropped off his infirm wife for a hospital appointment.
The Ford Focus careered out of control hitting Clare Haslam, 44, and her partner Deborah Clifton, 49, in the car park at Withington Community Hospital in Manchester on March 7.
Miss Clifton was crushed under the wheels before members of the public helped lift the car off her. Ms Haslam also suffered multiple injuries and died shortly afterwards.
Retired textiles merchant Bull, who served in the Armed Forces, pleaded guilty to two counts of causing death by dangerous driving.
He said he was "hugely remorseful", adding: "I cannot think of any way worse to come to the end of my life having now ended the lives of others."
Judge Martin Walsh gave the pensioner a two-year suspended sentence.
Earlier he said it was an "extremely difficult and sensitive exercise".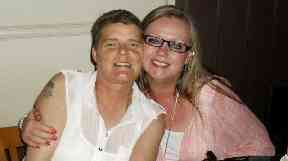 Bull's lawyer Richard Vardon had argued the circumstances of the tragic case were "exceptional" and could lead the judge to impose a suspended sentence.
For more than a decade the defendant had been carer for his wife of 65 years, Audrey, who had a number of health problems including Alzheimer's disease.
He said Mrs Bull could not be cared for at home without the defendant and she would have to be rehoused.
Prosecutor Sarah Johnston said personal statements from the victims's families - who packed the public gallery of the courtroom - had detailed "the profound impact of the loss of these two lives".
Following their deaths, the families of Ms Haslam and Ms Clifton, from Chorlton, said the pair were "made for each other, blissfully happy and, without doubt, soulmates".
They added: "We are all so heartbroken and will miss Debbie and Clare every day for the rest of our lives. They are together in heaven as they were on earth."