Victims of Enniskillen bombing remembered 30 years on
Relatives of those killed in the Poppy Day attack vow to keep fighting for justice.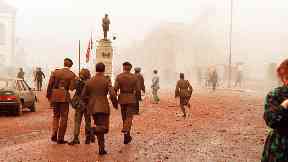 Relatives of those killed in the Poppy Day bombing in Enniskillen 30 years ago have vowed to keep the memories of their loved ones alive and continue fighting for justice.
Eleven people were killed and scores more injured when an IRA bomb exploded without warning ahead of a Remembrance Sunday memorial ceremony on 8 November 1987.
At the time, it just felt too awful to be true and in many ways it still is. I'm no more used to it. It's still awful and it still matters.

Aileen Quinton, whose mother Alberta was killed
A 12th victim died in December 2000, after spending years in a coma due to injuries sustained in the blast that ripped through the Co Fermanagh town.
Another innocent victim of the Troubles was killed the following day when loyalist paramilitaries sought to retaliate by shooting a Catholic in west Belfast.
Protestant student Adam Lambert was killed in a case of mistaken identity.
I think people born after the Troubles or after 1996 (the IRA ceasefire), are not educated enough about what happened. I think they just want people to move on and they don't want to be reminded. But I just don't want this to be forgotten about. I was very close to both my parents and they meant the world to me. I really miss them and I was robbed of 30 years of their life with me.

Stella Robinson, whose parents Wesley and Bertha Armstrong were killed
No one has ever been held to account for the Enniskillen bombing.
Ten people were arrested in connection with the bombing, but no charges were ever brought.
Detective Superintendent Ian Harrison, from the PSNI's Legacy Investigation Branch, said: "The Police Service of Northern Ireland remains committed to pursuing investigative options should they develop in the future."
You have to learn to live with it, or else you're another victim and I refuse to be another victim. You heal to a point, but it's inside you and it never leaves. Every day of my life, I miss my parents.

Joan Anderson, whose parents William and Agnes Mullan were killed
A memorial will be unveiled at the site of the bombing on Wednesday, with victims' families, politicians and other dignitaries due to attend.
A memorial service will also be held at Enniskillen Presbyterian Church.