Hospital syndicate dubbed 'The Catering Girls' scoop £25m
The group of six from Wales are celebrating claiming the EuroMillions jackpot.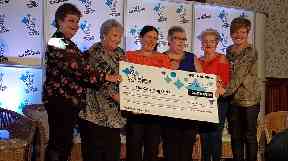 A group of Welsh hospital catering staff have handed in their notices after winning a £25,476,778.30 EuroMillions jackpot.
'The Catering Girls' have been playing as a work syndicate for the last six years.
Five of the group celebrated their win by handing in their notice - with the exception of one member who'd retired the year before.
But it was Louise Ward, who only joined in 2016, who chose the winning numbers.
I was actually thinking about stopping playing earlier in the year as I have been saving up for my wedding in March and needed the extra cash - imagine if I'd stopped, we'd never have won!

Louise Ward
'The Catering Girls' - Julie Saunders, Doreen Thompson, Louise Ward, Jean Cairns, Sian Jones and Julie Amphlett - have won an incredible £4,246,129.72 each.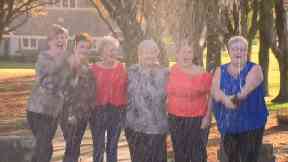 Syndicate leader Julie Saunders, who was a catering assistant for 12 years, had her husband buy the lucky ticket on Friday as they were all working.
When the shock of their win started to sink in, they decided that retiring from work was on the cards.
I've enjoyed working there for many years along with the rest of the syndicate, but now it is someone else's turn to take on those roles. We will miss many of our colleagues as we have all worked there a long time, but this is the start of something new for us all.

Julie Saunders
Julie Amphlett from Neath was a catering assistant for 32 years and says she wants to buy 'everything' - including a new house and handbag.
The syndicate began playing together after chatting one morning when they were feeling lucky. Both Jean and Julie felt they would one day 'win big' and become millionaires.