Body of Thames dolphin found washed up on riverbank
The two-metre long dolphin was believed to have been spotted nine days ago in London.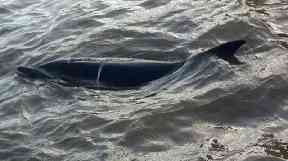 A two-metre long dolphin believed to have been spotted nine days ago in London after swimming its way up the River Thames has died.
The dolphin was first spotted on October 30 and had since been seen at various parts of the river in the capital.
Police confirmed the body of a dolphin had been found on the southern bank of the river at Wandsworth.
The Marine Policing unit @MPSonthewater tweeted: "Sad to tell you that a dead Common #Dolphin was washed up on the foreshore at Wandsworth yesterday.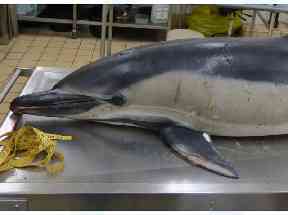 "Our friends at @ZSLMarine will carry out tests to determine why it was in fresh water.
"There may be others so keep an eye out and report any sightings."
Pictures on social media showed the animal swimming with its fin protruding out of the river water.
Robert Deaville, from the Cetacean Strandings Investigation Programme for the Zoological Society of London, said some sightings of the dolphin had appeared to show it was entangled with some man-made linear object.
He said the initial results from Wednesday's post-mortem investigation showed the dolphin was undernourished, probably relatively aged and missing some of its teeth.
The report also showed its stomach was contracted, suggesting it had not been able to find food while in the river, and there were impression marks around its torso which could have been caused by contact with a floating line.
He said: "We have been doing this work for 27 years and we have only ever had 12 common dolphin strandings on the east coast.
"However it came to be in the Thames it's an unusual occasion."
Mr Deaville said it was "certainly possible" that more than one dolphin had made its way inland but that he understood there had been no further sightings reported since the animal's body was discovered by the Port of London Authority on Tuesday morning.
His team is awaiting the results of further tests to confirm whether the dolphin had an underlying infection and establish a final cause of death, he added.