Real-life 'Iron Man' soars into world record books
British inventor sets record for fastest speed in a body-controlled jet engine power suit.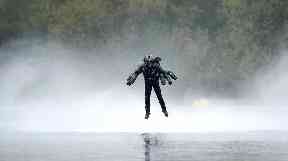 A British inventor has made history by becoming the first person to set a Guinness World Record for the fastest speed in a body-controlled jet engine power suit.
Founder and chief test pilot of Gravity Industries, Richard Browning, soared into the record books reaching a speed of 32.02mph during his third attempt at Lagoona Park in Reading.
After setting the record Browning mistimed a turn and dropped into the lake.
The "Iron Man" style jet suit started out as a fun project for Browning, which he developed in his garage.
The inventor believes it could be adapted to be used for other purposes such as in the military.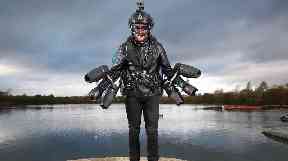 The suit is controlled by body movement and powered by kerosene-fuelled micro gas turbines.
Mr Browning's success comes as many other records were broken as part of Guinness World Record Day.
In the US the Harlem Globetrotters broke the record for throwing the highest upward basketball shot at 50ft.
In Sweden a social media star baked the largest vegan cake weighing in at 462.4kg.
And in China a new record was set for the fastest time to travel 20 metres in a contortion roll - 15.54 seconds.