Ex-Royal Marine in poppy tribute to his fallen comrades
Rob French from Somerset has a large tattoo featuring silhouettes of seven lost friends.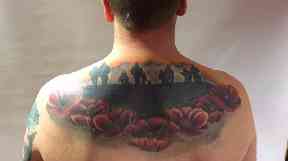 A former Royal Marine has revealed his touching tribute to his fallen comrades.
Rob French's back is adorned with a large tattoo, featuring silhouettes of seven Royal Marines killed in the Afghanistan conflict during 2008 and 2009.
The piece is framed by seven large poppies to remember his fallen servicemen, who became known as the "magnificent seven" by colleagues.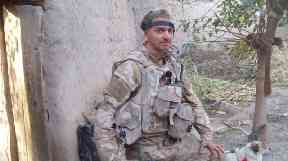 Mr French, 35, served as a Royal Marine from 2006 to 2013, when he was medically discharged with post-traumatic stress disorder having reached the rank of lance corporal.
He started the tattoo in November 2015 and describes how he was particularly close to three of the Marines it features - L/Cpl Steven "Jamie" Fellows, L/Cpl Ben Whatley, and L/Cpl Jason Mackie.
"I have always carried the weight of Ben Whatley's death on my shoulders as he was killed on Christmas Eve two weeks after I was sent home," he said.
"I always felt that if I was there I may have been selected to take that position on the same roof top, and therefore taken the round that hit Ben. I still live with that guilt now.
"I have used Ben's name as my first born son, Joseph's middle name and I will make sure he knows where the name came from and what price Ben paid so I could come home and become a dad."
"I decided to get the tattoo to place the reminder on my back so that they are with me and behind me pushing me on, rather than in front and holding me back," he said.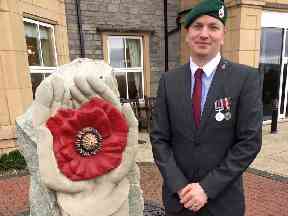 The married father-of-two, from Weston-super-Mare, Somerset, is raising money in aid of The Royal British Legion and in honour of his fallen friends.
"Around this time of year, the public start wearing poppies to show that they remember the fallen, but for me and all the other servicemen and women who have been to war, every single day is Remembrance Day," the swimming instructor said.
"That's why I will always wear my poppies."
Both of Mr French's grandfathers served in the Second World War - one in the RAF and one in the Army.
He hopes to take part in a swimming event at the Invictus Games in the future.
Donate to Mr French's Just Giving page in aid of The Royal Marines Charity and The Royal British Legion here