Paranoid schizophrenic jailed over murder of refugee
Jeffrey Barry stabbed Kamil Ahmad before removing his penis in the attack in Bristol.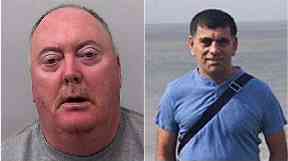 A mental health patient who murdered a refugee and cut off his penis hours after being released from a psychiatric hospital has been jailed for at least 23 years.
Jeffrey Barry, 56, stabbed his neighbour, Kamil Ahmad, 49, to death at his flat in Wells Road in Bristol at about 2am on July 7 last year.
The murder took place hours after Barry, who has paranoid schizophrenia, was released from a psychiatric hospital.
Bristol Crown Court heard that psychiatrists had opposed Barry's release, but a mental health tribunal ruled that he should be discharged.
Barry told a community psychiatric nurse he was "criminally insane" in a phone call he made minutes before the fatal attack.
But police discovered a note in his room reading: "The fact is, I have acted out my entire psychiatric history. I'm very well. Sorry."
A jury unanimously convicted Barry, who is being held at Broadmoor Hospital, of murder following a two-week trial.