Urgent appeal for donor for baby with 'half a heart'
Six-week-old Charlie thought to be youngest person in UK awaiting a transplant.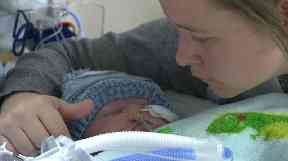 A Europe-wide appeal has been launched in the hope of finding a heart transplant for a six-week-old baby.
Charlie Douthwaite is thought to be the youngest person in the UK awaiting a transplant.
He essentially has "half a heart" - he was born with hypoplastic left heart syndrome, meaning the left side of his heart is underdeveloped.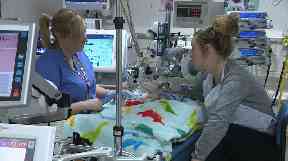 Charlie's mum Tracie Wright has urged people to sign up as donors, calling it "such an amazing gift to be able to offer someone".
"It's a priceless gift that can never, ever be repaid. It would just mean the world to me to receive that for Charlie," she said.
Asif Hassan, director of transplantation at Newcastle's Freeman Hospital where Charlie is being treated told the BBC: "We have got him to a stage where we could put him on mechanical assistance supporting the heart to pump blood around the body.
"But I'm very fearful if we don't get a heart in the next few weeks, it would mean in the next few months Charlie might not be here."
The appeal has been made in the hope that a family who are grieving the loss of their child may be in a position to help.