Man arrested on suspicion of murder over firework attack
A 29-year-old man has been quizzed over Anthony Nicholls' death in the West Midlands.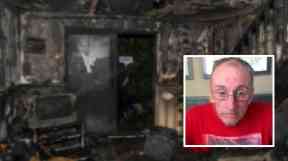 Detectives investigating the death of man killed after a firework was set off inside his home have arrested a suspect.
Anthony Nicholls, 56, died in hospital following the fire at Birchtrees Crescent, Tile Cross, on 2 November.
West Midlands Police said a 29-year-old man has been arrested on suspicion of conspiracy to commit murder.
The fire started after an industrial-sized firework was placed into home Mr Nicholls' by a group of men, who burst in while he and his partner were eating a Chinese takeaway.
The firework was lit and caused a major fire, destroying the property.
Mr Nicholls' partner escaped with fractures to her lower limbs, after she jumped from a first floor window.
She has been released from hospital, but suffered life changing injuries.