Man arrested on suspicion of murdering missing teenager
The 49-year-old was held over Gaia Pope's disappearance after items of women's clothing were found.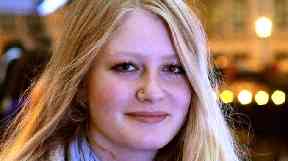 A third person has been arrested on suspicion of the murder of missing teenager Gaia Pope.
Dorset Police confirmed the 49-year-old man, who is believed to have known Miss Pope, was arrested on Thursday afternoon - just hours after items of women's clothing were found in a field near Swanage.
Gaia, from Langton Matravers, had been staying in Swanage when she disappeared on the afternoon of November 7.
The developments came after Gaia's father, Richard Sutherland, made an emotional appeal to find his daughter, saying: "We'll get you back."
He said the family has been left "distraught" by the 19-year-old's disappearance but that they remained hopeful they would find her alive.
A member of the public found the clothing in an area of open land north of the coastal path at around 10.30am on Thursday.
Gaia was wearing grey and white woven leggings and white trainers and a red checked shirt with white buttons the last time she was seen.
Speaking before the discovery was announced, Gaia's father thanked the community in Dorset for their "unbelievable" help in trying to track her down.
Mr Sutherland said: "We all love her. We want her back, we'll get her back.
"We believe we will get her back, so that keeps us going. The help we get from the community, from every single person who's been involved in this, gives us hope.That gives us strength.
"I can't tell you how grateful we are to everybody out there."
He added: "Gaia, you know we love you, you know that. I just want that big hug please, I just want a big hug. We'll get you back and we'll have that big hug."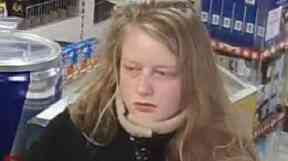 On Wednesday, Dorset Police issued two CCTV images of the teenager recorded less than an hour before the last confirmed sighting of her.
She was being driven between Langton Matravers and Swanage by a family member when they stopped off for fuel at St Michael's Garage on Valley Road in Swanage.
At around 2.55pm she went inside and bought an ice cream.
The last confirmed sighting of Gaia - who has two sisters, including a twin - was at an address in Manor Gardens on Morrison Road in Swanage at about 4pm.
Forensic investigations are continuing at two properties in Manor Gardens, which are believed to be the homes of a 71-year-old woman and a 19-year-old man, both of whom knew Gaia.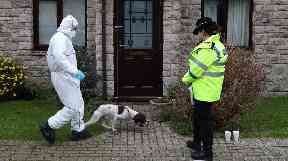 They were released under investigation on Tuesday after being arrested on suspicion of murder by police the previous day.
Detective Chief Inspector Neil Devoto, who is leading the investigation, said: "Our search efforts are continuing and I would again appeal to the public that if they have any information, however small, that could lead us to finding Gaia, please get in touch."
The search to find the teenager has continued with search teams focusing their efforts inland in Swanage and the surrounding area.
Anyone with information should contact Dorset Police at www.dorset.police.uk, via email 101@dorset.pnn.police.uk or by calling 101, quoting incident number 14:108. Alternatively contact Crimestoppers anonymously on 0800 555 111 or via www.crimestoppers-uk.org.