Military dog given animal version of Victoria Cross
Mali awarded the Dickin Medal for saving the lives of dozens of British soldiers.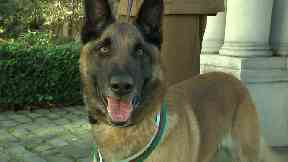 A British military dog has been awarded the animal equivalent of the Victoria Cross for his work protecting soldiers fighting the Taliban in Afghanistan.
Mali, an eight-year-old Belgian Malinois, was given the PDSA's Dickin Medal after being deployed with his handler and other troops to the war-torn nation in 2012.
During an assault to reclaim an enemy stronghold in a multi-storey building, he is credited with saving the lives of dozens of British soldiers.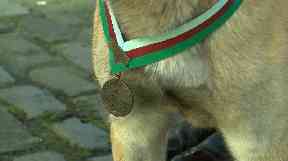 He navigated through direct fire to search for explosives, warning his comrades when there were any nearby.
He also alerted them to the presence of enemy fighters.
Despite being hit by grenade blasts, which left him with injuries to his chest, leg, ear and mouth, he carried on.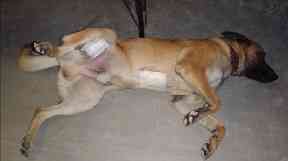 Director general of the PDSA, Jan McLoughlin, awarded him the Dickin Medal in recognition of his courage while under attack.
Mali has displayed a truly awesome ability and determination to seek out explosives and insurgents during a key operation. To achieve this while exposed to close combat and such intense enemy attack makes him an incredibly worthy recipient of the PDSA Dickin Medal. It is even more poignant that we were able to make Mali's award today on our charity's 100th birthday.

Jan McLoughlin, PDSA
Mali has now made a full recovery from his injuries, and now worked at the Royal Army Veterinary Corps Defence Animal Centre in Leicestershire, helping to train new dog handlers.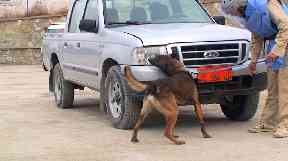 He is the 69th recipient of the medal, which was presented to him at a ceremony in London on Friday.
Other recipients include 31 other dogs, 32 World War messenger pigeons, four horses and one cat.
Mali's handler at the time of the mission, who must remain anonymous for security reasons, was also awarded a gallantry medal for his part in the operation.