Girl, 12, killed in crash between dune buggy and car
The child died of her injuries following the collision in Northern Ireland.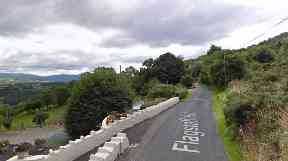 A 12-year-old girl has died following a crash between a dune buggy and a car in Northern Ireland.
The schoolgirl was in the buggy with a 14-year-old girl when they were involved in a collision with a Toytota car on Flagstaff Road in Cloughoge, Newry, at around 2.50pm on Saturday afternoon.
The 12-year-old girl died as a result of her injuries, while the 14-year-old girl sustained a broken leg and remains in hospital.
The driver of the vehicle was not injured.
Police have appealed for anyone who witnessed the collision to get in contact on 101.