Attempted carjackers try to smash their way into Bentley
The masker robbers were caught on dashcam as they staged terrifying attack.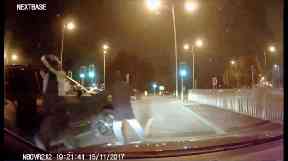 Attempted carjackers tried to smash their way into a luxury car in a terrifying attack that was caught on dashcam.
A 51-year-old woman driving a Bentley Bentayga was targeted as she stopped at red traffic lights in Bury, Greater Manchester, at around 6.20pm on Wednesday evening.
Two masked raiders ran up to the car and tried to smash her windows with axes, while demanding that she hand over her watch.
The woman refused, but was unable to escape due to stopped cars in front of her.
She was only able to drive off after the lights changed.
Greater Manchester Police said the robbers were among four offenders who had followed the Bentley on two mopeds.
They released the footage in the hope it will help identify the offenders.
As you will see from the footage, this was a disturbing and unprovoked attack on an innocent woman as she sat in her car at a junction. > Fortunately she wasn't injured but that doesn't excuse the horrific actions of these men which could have had awful consequences.

Detective Sergeant Ian Partington
Anyone with any information should call police on 101 or contact Crimestoppers anonymously on 0800 555 111.