Wedding to honour Manchester Arena bombing victim
Olivia's mum is to marry her fiance this weekend, and they are dedicating the day to her.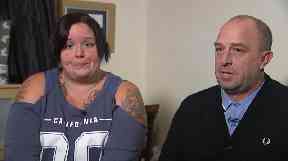 One of Olivia Campbell's wishes was to see her mum marry the man she loves.
But tragically she will never see that day, after the teenager was among 23 people to lose their lives in the terrorist bombing at the Manchester Arena in May.
The wedding of Charlotte Campbell to her fiance Paul Hodgson is going to go ahead this weekend, and the couple are dedicating every detail of the day to Olivia.
The bridesmaids will be dressed in blue, and will be the bridesmaids she wanted her mum to have. The dress, shoes, the cars, suits and much more have been chosen based on what Olivia would have wanted.
"Even though it's our day, it's all been based around Olivia's life and dreams, hopes and wishes," said Paul.
Next Tuesday Olivia would have turned 16, and her mum says the hardest thing is that she won't be there on the day.
"All we can keep thinking is, we are fulfilling her dream for us," said Olivia's mum Charlotte.